President Donald Trump made an unusual entrance at a rally in Biloxi, Mississippi, on Monday night when he emerged from what appeared to be an oversized fireplace that had been decorated for Christmas with stockings. 
The stage itself was festooned with seasonal elements, including Christmas trees, giant nutcrackers, a sleigh and an inflatable helicopter with a penguin pilot, while many in the crowd waved Trump-themed "Merry Christmas" signs as fake snow was pumped into the room.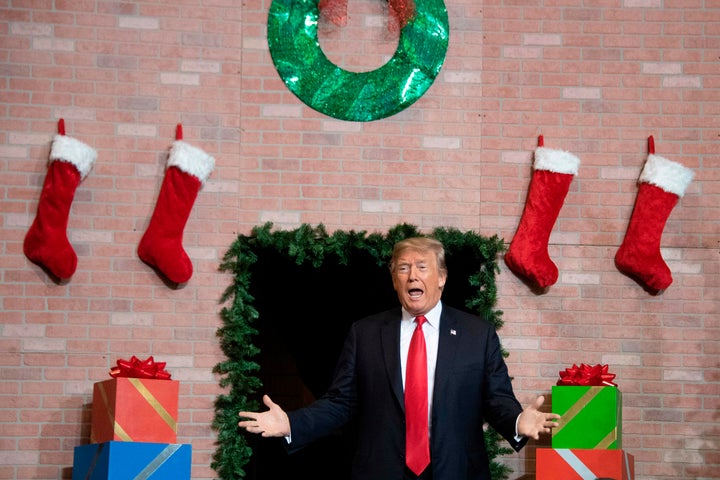 JIM WATSON/AFP via Getty Images


President Donald Trump arrives Monday night at a rally in Biloxi, Mississippi.

While Trump's emergence from a fireplace was likely meant to evoke Santa Claus, critics on Twitter had a few other images in mind: 
Did he use Floo Powder to get there?

— Allyn Brooks-LaSure (@BrooksLaSure) November 27, 2018
"Deck the halls with cans of tear gas"

— ?Thomas?ThirdEye? (@pavone120) November 27, 2018
It's so disappointing when people expect Santa, but instead get Krampus the Christmas demon.

— DQKennard (@DQKennard) November 27, 2018
Here comes the Grinch who stole America!

— Mikerepent (@Mikerepent1) November 27, 2018
The Burgermeister Meisterburger comes to town.? Hide the toys.

— Duncan Hunter's Bunny (@OneDoneAndDone) November 27, 2018
Wow. It's like a setting at the mall for a picture with Santa. So embarrassing ?‍♀️

— Carrie Ann Fonda (@CarrieAnnFonda1) November 27, 2018
I see why the new Grinch movie is getting mediocre reviews

— KatePink (@KatePinkerton) November 27, 2018
That fireplace looks like the backdrop for a 3rd grade play

— Sane English (@SaneEnglish) November 27, 2018
Fake snow? I thought Xmas is finally free of oppression again. Deserves real snow. Sad.

— Dan Von Klum (@CannotIgnore) November 27, 2018