A newly erected pedestrian bridge collapsed across a road in Miami on Thursday afternoon, reportedly trapping cars and people underneath.
The 950-ton bridge stretched along Florida International University's campus, across Southwest Eighth Street, and had not yet opened to pedestrians. It was only lifted into place on Saturday and was still under construction with completion expected by early 2019, according to the school.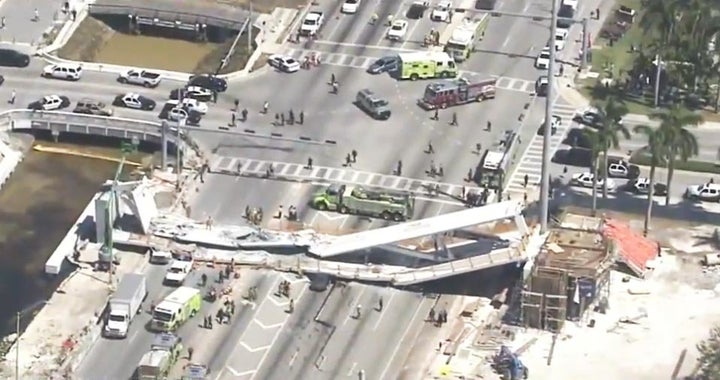 Lt. Kirsten Miller of Miami-Dade Fire Rescue told WSVN that at least five people have been transported to hospitals from the collapse site.
"There are several victims. It's continuously changing on the numbers of victims," she said. "Time is precious. We don't know what we will find once the bridge is lifted."
Photos posted on social media show at least five cars trapped beneath the bridge. Most of them appear to be completely covered by the fallen debris.
Twitter user Damani Reed, who told HuffPost that he heard the bridge collapse from a nearby apartment building, snapped a photo that showed the destruction spread across the multiple-lane road.
"It wasn't too loud it sounded like two metal walls fell over," Reed wrote HuffPost.
Florida Gov. Rick Scott (R) said on Twitter that he has been in contact with Miami-Dade County Police Chief Juan Perez about the collapse and is heading to the university.
President Donald Trump has been briefed about the situation, White House press secretary Sarah Huckabee Sanders told reporters.
Florida International University released a statement saying that it was "shocked and saddened about the tragic events unfolding" and that it would share updates "as we have them."
Munilla Construction Management, which built the bridge, also released a statement on Facebook that described its staff as "devastated" by the catastrophe. The Miami company vowed a full investigation.
"Our family's thoughts and prayers go out to everyone affected by this terrible tragedy. The new UniversityCity Bridge, which was under construction, experienced a catastrophic collapse causing injuries and loss of life," the statement read.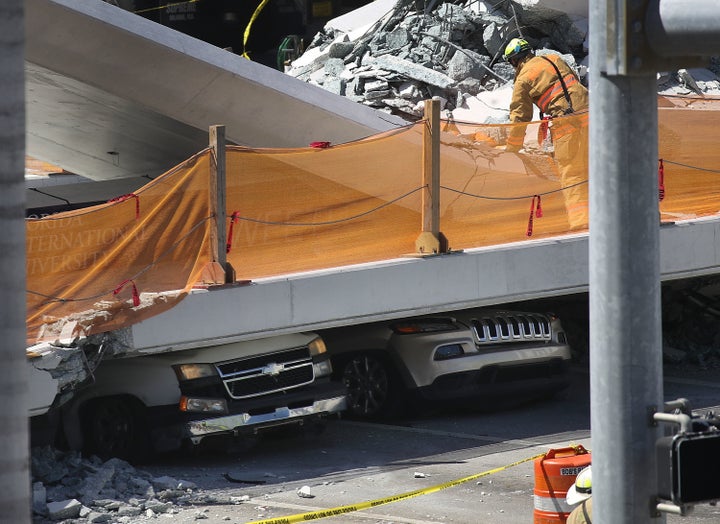 The Florida Highway Patrol and Miami-Dade Fire Rescue did not immediately respond to requests for comment.
This is a developing story. Check back for updates.